Who's In Charge? Attacking the Stress Myth (eBook)
Finally! A book that challenges the very underpinnings of how we look at stress, power and personal responsibility.
Praise for Who's In Charge?----
"Who's In Charge? Attacking the Stress Myth From The Workplace To The Homefront" by Dr. Scott Sheperd is a useful and 'user friendly' how-to-guide to reducing personal stress levels. Rejecting the notion that stress comes from outside, Who's In Charge? focuses on how to control personal reactions so as not to become stressed from within. A wealth of tips, tricks, and techniques for making the most of emotional inner power and reaping the consequent benefits abound in this positive and highly recommended self-help guide to better mental health."
-------- Midwest Book Review
(4 Stars)  We bring meaning to the events in our lives. . .
"That's the core message - and starting point - of Scott Sheperd's book attacking what he calls the 'stress myth,' the popular belief that stress is some mysterious force that we cannot control, only manage. Sheperd refuses to buy into that theory and quickly shows how absurd most modern conceptions of stress really are. In a no-bull, plain-speaking style, he show readers how they can overcome the sense of overwhelm and frustration that 'stress' creates. His ideas are not the mere pie-in-the-sky, think-positive-and-it's-all-good ideas, but truly useful approaches that anyone can use to enjoy life more each and every day One of the best self-help gems out there. Who's In Charge? is a must-read for those seeking sane, sensible ideas to conquer the stress and control their own lives."
 ----------   Jim Allen, The 'Big Idea' Coach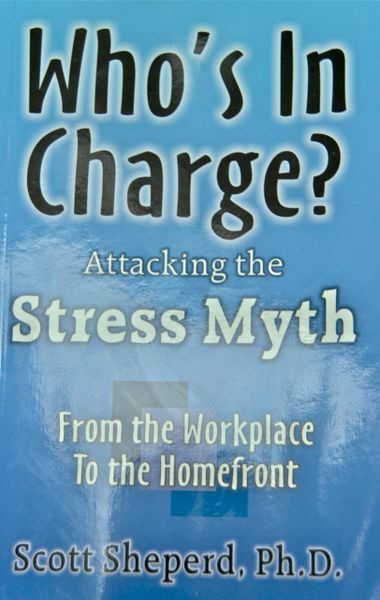 Praise for Dr. Scott Sheperd
"Scott Sheperd is one of the most knowledgeable individuals I know when it comes to human interactions and what it takes to be successful in today's workplace."
Steve Grafton, Executive Director Alumni Association, University of Michigan
"Scott Sheperd has the ability to give people something they can use both at work and at home while at the same time making it a humorous and inspirational learning session."
Cynthia Krause, Regional Operations Director,
Promedica Physicians Group 
"A great ability to relate to our people in terms they can understand. His message that we, not someone else, control virtually all the choices we make every day is one that motivates and gives confidence to us all."
 ----- Dave Brown former C.E.O.